"Queer&Asian" A Documentary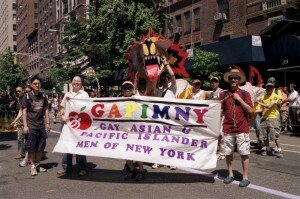 "Queer&Asian" is an upcoming documentary film by film maker Ken Takeuchi that sets out to compile stories of queer gaysians in the New York City area. Production has yet to be completed so if anyone is interested in sharing their story, please make sure to contact Ken by visiting the documentary's official website. Below is a description of the project itself taken from the website:
Lesbian, gay, bisexual and transgender Asian and Pacific Islanders in the U.S. face a reality, where they are subjected to racial stereotypes and prejudice in the mainstream LGBT community, as well as discrimination among Asian communities which deny their existence. There are almost no portrayals of LGBT APIs in the media, except for rare occasions where they are depicted in exaggerated feminine and submissive manner. Even upon coming out, they must continue their struggles against the post-colonial expectations still being held widely by White majority. The result is many queer Asians turn such experience into internalized homophobia and racism.

The documentary film, Queer & Asian reveals such realities experienced by queer Asians from various background, who struggle and fight against stereotypes and racism everyday. Following a day in the lives of everyone from a gay Asian American go-go dancer, a South Asian lesbian social justice activist, a recent queer Asian immigrant who cannot speak English, to a transgender Asian finding an acceptance in immigrant community, the film explores the first-hand account of what it's like to be a double minority in the U.S. Through their experience, the film also analyzes the history behind the hidden social hegemony held by the majority, and the system of oppression invisible to the naked eye.

There are many stories that go untold. By capturing and sharing these stories of a vibrant and thriving community that remains underground to this day, this film will not only help raise visibility and issues, but also break the myths of Asian model minorities and celebrate their diversity.